Nagyon sokan kíváncsiak voltak Steven Spurrierre a VinCÉ-n. Van is kisugárzása az embernek, ez kétségtelen és az érzésre még ráerősít a tudat, hogy már akkor meghatározó ember volt a borvilág forgásában, amikor én még csak kósza ábránd voltam. Nos, ha summázni kéne, sok újat nem mondott.
Megkóstoltuk a borokat, ellőtt egy-két poént, saját poharát adta körbe ott, ahol egy minta hiányzott (volt taps), de talán az idő szűke miatt mélyebb elemzésbe nem bocsátkozott.
Stevenről azt kell tudni, hogy 1964-ben cseppent a boros business-be, London egyik legrégebbi kereskedőházában, a Christopher&Co.-ban volt gyakornok. 1970-ben Párizsba költözött, ahol kicsiny borboltjában újdonságnak számított, hogy a vevőket vásárlás előtt kóstolásra bátorította.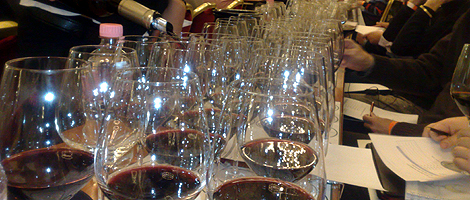 1973-ban már boros magániskolát nyitott, majd jött az 1976-os "Judgement of Paris", melynek a lényege volt, hogy kaliforniai borok hazai pályán, részben nagynevű hazai (francia) szakírók előtt vakteszten fújták ki az orrát a legnevesebb bordeaux-i és burgundiai brandeknek.
Spurrier 1988-ban tért vissza Londonba, azóta borszakíró. A 2008-as Bottleshock című filmben, amely a fenti eseményről szól, szerepét Alan Rickman alakította. Volt némi jogi hercehurca is, Spurrier úrnak nem tetszett a forgatókönyv, mert inkább volt tündérmese, mint valós dokumentálása az eseményeknek.
A kóstolóról. Tizenkét bort hozott, amit bő kétszáz emberre kiosztani hatalmas logisztikai feladat. Kis részben sajnos nem is sikerült, a tízes minta a rendezői jobbnak szinte egyáltalán nem jutott, na de túléltük. A kóstolásra természetesen vakon került sor, nagyon gyors tempóban, ami eleinte tetszett, aztán már én is alig bírtam követni. Ekkor lassítottunk, majd szavazott a közönség és kialakult egy végeredmény is. Lássuk!
Malatinszky Kövesföld 2009 (70% CF – 30% CS), 90+ pont és nálam 2. hely
Volt egy gyanúm rögtön az elején, hogy ez magyar, majd másodjára azt is felkarcoltam, hogy talán Malatinszky bor lesz. Bejött. Fiatal szín és fiatalos illat füsttel, fekete erdei gyümölcsökkel, finom pörkölési aromákkal, szép mélységekkel. Az alkohol fűt rendesen, a tannin is tapad, de a korty gyümölcsei kirobbanóak és melegek. A lecsengés nagyon elegáns, gyógyfüves kifutású. Nagy testű, de elegáns bor, igazán szép. Erős indítás, de sosem szabad egy kóstolón pusztán a sorban történő elhelyezés alapján dönteni.
Myskhako Grand Reserve Cabernet Sauvignon 2008, Oroszország, 100% CS, 84 pont
Visszafogott illatában némi mélyvörös gyümölcs, földesség. Fedett. Nem lóg ki semmi, de túl sok izgalmat sem ad, zárt, mufurc bor. Utólag megtudtuk, hogy 25,5 euró és a tulaj is a helyszínen volt. Hát nem egy nagy durr.
Nicolas Catena Cabernet Sauvignon 2008, Argentína, 86 pont
Hecsedlis, vidám, friss, cseresznyés, kissé plasztik gyümölcsösség. Nem túl intenzív, ezért nem is közönséges. A korty karcsú, nem fás, friss piros bogyós gyümölcsök viszik és némi sósság-fűszeresség is felbukkan a lecsengésben.
Chateau de Pez 2007 (Saint-Estéphe, Bordeaux) (60% m – 35% cs – 5% cf) 82 pont
Üres pörkölt kávé, semmi más. Kissé elszúrt hordóhasználat, az anyag nem volt elég nagy (vagy ilyennek akarták, ez talán még rosszabb). A korty is nagyon fás és dzsemes, nem túl szép. A korty közepe savanyú, tanninja dörzsöl. Aránytévesztő bor ebben a mezőnyben.
Sauska Cuvée 7 Siklós 2008 (45% CS – 34% M – 21% CF), 88 pont és nálam 5. hely
Ami elsőre bevillan az a 3XL kabát: nagy alkohol, bőséges újhordó (egész jól, nem lesz tőle buta a bor), konyakosság, édesfűszerek, Villány. Nagy test, vaskosság, újvilági cassisos beütéssel, kerekséggel, súlyos alkohollal és édesbe kifutó, fűszeres finissel.
Stag's Leap Artemis 2007 (Napa-völgy, Kalifornia) (90% CS – 7% M – 2% SY – 1% PV), 90 pont és nálam 3. hely
Előadónk nagyon rajongott ezért a borért, a közönséget is sikerült meggyőznie, ő lett a győztes. Izgalmas illatú bor, sok képzetet kelt az emberben, de inkább elgondolkodtató, ezért az avar, kátrány, égett gumi, toast nem a megfelelő jelzők, mert ezekhez legtöbbünkben negatív képzettársítások tapadnak. A korty meleg karakterű, komplex, érett tanninnal, érett alapanyagból. Fűszerpaprika, fekete bogyósok vezetik. Van súlya, de nem nehézkes, lecsengése hosszú. Kiváló bor.
Mazzei Tenuta Belguardo 2007 Olaszország (90% CS – 10% CF), 92 pont és nálam 1. hely
Az első szó a jegyzetemben, hogy olasz. Ez a finoman fűszeres-földes, hedonista illat csak Toszkán lehet. Közepesnél intenzívebb, betolakszik az orrba, sötét fűszerei felidézik a Montalcino környékén töltött forró éjszakákat (Grosseto és azon belül Montebottigli kissé délnyugatabbra, a tenger felé található). Lendületes savak, friss gyümölcsök, mélység, tartás. A tannin bársonyos, a lecsengés gyümölcsös, a hordó okosan integrált, komplex. "Nobile é robusto." Innám bármikor, bárhol.
Te Mata Coleraine 2007 Új-Zéland (52% CS – 34% M – 14% CF), 88 pont és nálam 6. hely
Nagyon érdekes dolog ugrott be először, a bölcskei Molnár Pince 2007-es cabernet-je. Fűszerpaprika és vaníliás-kávés hordóhatás. Sauvignon-dominancia, de elegánsan. A korty meleg karakterű, karácsonyi fűszeres (fahéj-szegfűszeg) díszítésekkel, alkoholos hévvel, csak közepes testtel. Kissé merev és nyers még a korty, az illat többet ígért. Két-három év és révbe ér.
Torres Mas La Plana 2007 Spanyolország (100% CS), 89 pont és nálam 4. hely
Fűszeres, toastos, meleg karakterű illat sok fűszerrel. A korty nagyon koncentrált, sok gyümölccsel enyhe pörkölt kávés beütéssel, sok de jó cseranyaggal, feketeribiszkével és szilvadzsemmel. Klassz bor. Spurrier úr nagyon rajongott ezért is, a végeredményen meglátszik.
Cape Mentelle 2006 Ausztrália (CS-M)
Ez a minta maradt ki az én blokkomból.
Montes Alpha Cabernet Sauvignon 2007 Chile (90% CS – 10% M), 85 pont
Azonnal jön, hogy chilei: sok bakelit, áfonyadzsem. Az íz ennek ellenére nem közhelyes, sok gyümölccsel, drágahordós tónusokkal, kissé savnöveltnek érzem, de kell is neki a támogatás. Lecsengése is gyümölcsbomba.
Rustenberg Peter Barlow 2007 Stellenbosch, Dél-Afrika 100% CS
Vegetális, füstös, idegen illat sok fűszerrel. A korty csupa zöldes érzet, nyers-paprikás, éretlen tanninú, az összkép rendezetlen. Gyenge lezárás.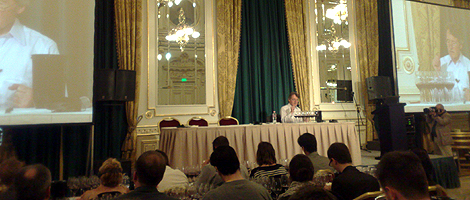 A közönségszavazatok alapján az alábbi borok kerültek a top5-be:
Stag's Leap Artemis 2007
Torres Mas La Plana 2007
Mazzei Tenuta Belguardo 2007
Sauska Cuvée 7 Siklós 2008
Malatinszky Kövesföld 2009
Saját listám:
Mazzei Tenuta Belguardo 2007
Malatinszky Kövesföld 2009
Stag's Leap Artemis 2007
Torres Mas La Plana 2007
Sauska Cuvée 7 Siklós 2008
Mit mondhatnék lezárásképpen? Érdekes volt egy élő legendával találkozni, együtt kóstolni vele. Kicsit több szakmai titkot, sztorit, anekdotát vártam, de e nélkül is élvezetes kóstoló volt. A borsor alapvetően szép és színvonalas, nagy merítés a világ minden tájáról, lehetett belőle tanulni. A nagy érdeklődésből is látszik, hogy van ilyesmire igény a magyar közönségben.